Classy and Gassy EFRO and Toilet – Scat Fetish Collection – 14 Scat Video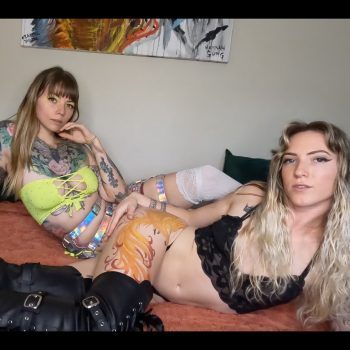 This Classy and Gassy collection contains 14 videos featuring Classy and Gassy shitting in to containers, on the floor, dirty talk, JOI, and more.
1.We are gunna keep you in our shit room for days! We will both take turns dumping on you and telling you what to do with our yummy loads. Cant you take 4 turns with us….we shall seeeee.
2. POV Gassy is going to dump on you while Classy tells you how to satisfy us by jerking yourself off. We love love love when you cum to our shit. Dont be shy we need you to help with the clean up [';
3. I had a special treat order to prepare for a lucky brown-nosing fan so I prepared him a cute dumpie that is full of nutrients from my previous meal of steak, blueberries, and chia seeds! watch me squeeze my dark poop into a Tupperware so I can ship you this yummy fresh treat!
4. Could it be that you want some college hotties to shit in your mouth? Because Classy and gassy are on the case, we've invited you over to have a taste of us..but that's not all we've got more for you!
5. You guys are going to love this dirty dirty pov where I tell you to pull out your cock as I lay a fresh one right on the floor in front of you. Oh yeah take a deep breath and stroke your cock as I dirty talk and let out my mess and give you a nice close up of my dirty asshole!
6. This is going to get messy. Guaranteed. I have been eating a lot of chili lately and it just does something to my system. All those beans get me super gassy and on top of that…my tummy has been upset so I know when I start farting its about to get DIRTY. I giggle as I let out my farts, but I shouldn't be so quick to laugh…I know this is going to end in a mess!!! It quickly turns from cute poots to explosive diarrhea sharts! Too bad you aren't here to lick my asshole clean!
7. Lick my toes and the bottom of my feet. That feels so good and I love when you do exactly as I say. Thats the proper way to worship your goddess. After you lick my dirty toes and feet get ready to lick something even dirtier. As I lay on the ground I push out a fresh pile of poop and let you smell its intoxicating aroma. I switch positions to squatting after laying a dump and tinkle and poop even more to ensure I get every last turd out for you. I sure can stink up a room. You dare me to get close to my fresh dumpie and take a huge inhale. It reeks! REEKS SO GOOD!
8. You put in a request for your stinky goddess to shit in a clear container. I love this request, i love that i know you are gunna watch this and jerk off to it. I wish you could smell how freaking stinky it was that soft part of the shit really does hit different. like so very smelly and you are sure to get a rise from that alone! The fun part is after i dump in it i spread it around in the container for you to enjoy the sight and open up the aroma. Think i could ship this out and pass it off as peanut butter? i think so [;
9. In this insanely hot poop clip vid I give you multiple poop fantasies. let me pull my ass cheeks apart and give you the most spectacular view as I serve you up a treat. It starts with an erotic poop in Tupperware video and then you get a desperation video where I squeeze sooo hard and so much effort just to squeeze out a tiny little turd….then it finishes with another hot poop in Tupperware!
10. POV I make you lay down and strip you of all clothes. Im going to train you to love my ass, and everything that comes out of it. Ill stoke you while i set my ass right over your face and tell you to take it all in like a good slave. You oblige of course and now you really feel turned on when you think about my cheeks being spread and all the yummy that is about to flow from it.
11. I tease you and tell you to pull out your cock and stroke it while I take a poop in a Tupperware for you with my raspy morning voice! I have held in my poop all morning to make sure you get a nice load! Cum to my shitting asshole and enjoy every second of poopy pleasure!
12. I've got an order for 2 first large loads! Well actually this slave only ordered one but I'm gunna spoil him for being loyal. Watch as i drop these stinky loads into a clear container and show them off before i send them away to be whatever it is they may become. What would you do with these two massive loads??
13. POV Our last session went so so well! I had some time this evening so i invited you over to see if you wanted to go for round 2. Of course you did and you came over just in time cause i really couldn't hold it much longer. i'm gunna squat over you and give you a lil taste, once we've warmed up with that i let it all lose for you.
14. Want to Play a Game? Lets play a game…you guess what kind of poop you think I am going to have as I lay a fresh poop right in from of your face for you. sexy close up action and a spectacular view of my creamy pussy since im ovulating.

https://takefile.link/folder/96a3ddf7-f537-11ed-a9bf-ac1f6b76251a
The post
Classy and Gassy EFRO and Toilet – Scat Fetish Collection – 14 Scat Video
first appeared on
Extreme Copro Site # 1
.